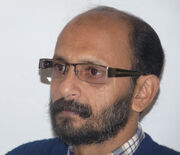 Dr. Amit Abraham is head of the postgraduate department of psychology at St. John's College, Agra[1] He is teaching graduate and postgraduate classes along with supervision of research work. He is actively involved in various offbeat research works related with the human psyche. He did his schooling from St. Joseph's College, Nainital and his post graduation in psychology from the Delhi University. His Ph.D. is in the area of personality as determined and influenced by the Zodiac signs of individuals. He has been the Coordinator[2] of the National Commission For Minority Educational Institutions, New Delhi[3] for three consecutive terms (2005- 2008). He is also the Recipient of the 'U.P. Shikshak Saman' for the year 2006 awarded by Bright Organization For Youth, Agra.
His work
[
]
Dr. Abraham has done extensive work on human sexuality and sexual attitudes. He has developed scales for the measurement of attitudes towards premarital sex, polygamy, pornography, lesbianism, and homosexuality. He has published research papers in diverse areas and researchers abroad have cited some of his findings in their researches.[4] [5][6]. He has authored textbooks and books for competitive examinations. He has also written books on general interest and self-help. These books are marketed internationally and have been incorporated in many institutions as part of their curriculum. He has contributed many articles in the leading daily Hindi newspapers[7] and appeared on various talk shows in the local television including Sahara T.V. (Agra, Uttar Pradesh). He is also the founder and head of Samvaidna, a mental health welfare organization registered under the Societies Registration Act (Registration No. 2016). The Samvaidna family consists of sensitive, highly qualified, experienced, professionally trained clinical psychologists, counselors, child psychologists, speech therapists, specialists for the mentally retarded, management professionals, organizational psychologists, social psychologists, and medical and paramedical professionals at Agra and with members from throughout the country. Dr. Abraham through his organizational network is providing free guidance, counseling, and therapy for various psychological problems.
Samvaidna's training division conducts cost effective workshops all over India on various management issues, organizational behavior, social issues, and psychological issues for all age groups ranging from communication improvement skills, transactional analysis, and hypnotherapy and personality improvement workshops etc. The organization conducted a weeklong workshop[8] from 23rd – 29th December 2002 at the Mughal Sheraton Hotel, Agra which focused on children problems. The second workshop on career guidance and counseling was held for parents at St. Anthony's School, Agra. A National Interactive Workshop on Behavior Modification Techniques was conducted on the 23rd & 24th January 04 with participants from all over India.
Dr. Abraham's organization also holds regular free guidance and counseling camps in the city of Agra. His organization has done extensive work in the district jail of Agra giving counseling and therapy to the prisoners. Drug de-addiction programs have also been carried out in the jail.[9]
Dr. Abraham is actively involved in offering psychological guidance and counseling via the internet to people. He is also the consultant for the local print and electronic media giving interviews and talks on various psychological aspects and issues.[10]
Publications
[
]
Books
[
]
Articles
[
]
Psychogenic Diarrhea Indian Pediatrics Volume 42 June 17, 2005, p. 67-68.[36]
Importance of Mental Health " Trailblazer: Motivational Monthly for Young Minds " Volume 1 Issue 1. February 2009. Unicorn Books, Delhi.
How to Remain Mentally Healthy " Trailblazer: Motivational Monthly for Young Minds " Volume 1 Issue 2. April 2009. Unicorn Books, Delhi.
Psychology of Attention " Trailblazer: Motivational Monthly for Young Minds " Year: 2 Issue: 8. August 2011. Unicorn Books, Delhi.
Psychological Scales Developed And Published
[
]
"Sexual Attitude Scales" (5). National Psychological Cooperation, Agra. 1997.[37]
"Samvaidna's Vocational Preference Scale". Agra Psychological Research Cell, Agra. 2004.
"Samvaidna's Value Scale". Agra Psychological Research Cell, Agra. 2004.
"Samvaidna's Clinical Case Study Performa". Agra Psychological Research Cell, Agra. 2004.
Research Papers
[
]
"Reproduction of angular distances in the congenitally blind" Psycho-lingua, 1994, Vol. 24 (2), 99 – 104.[38]
"Job satisfaction and teacher effectiveness" Indian Journal of Psychometry and Education. 1994, Vol. 25 (1 & 2): 61 – 64.
"Effects of Noise Pollution on Human Adaptability In Agra City" Indian Journal of Environmental Protection. Vol. 22, No. 12, December 2002.[39]
"A study of values of under graduate and post graduate students as determinant of their vocational preferences" Asian Journal of Psychology and Education. Vol. 37, No. 1 – 2, Year 2004, page 33 – 36.
"To Study The Effects of Corporal Punishment on Children in Relation To Exhibition of Antisocial Behavior" Indian Psychological Review. 2005, Vol. 64. No. 4 Page 209 – 214.
"Cognitive Dysfunction In Relation To Mercury Toxicity Among The Residents of Agra City" Behavioural Scientist. 2005, Vol.6 (2), Page 81 – 84.
"Enhancing Emotional Intelligence" Indian Psychological Review.2006, Vol. 66, No. 4, Page 183-186.
Research Supervised
[
]
"A Study of The Effects of Self Esteem, Extroversion and Coital Frequency on Husbands Sexual Satisfaction" 2002. (Dr. Titus P. Varghese)-: Re-assessed by the Foreign Credentials Services of America and approved by the American Psychological Association, USA.
"A Study of Values of Under Graduate and Post Graduate Students As Determinant of Their Vocational Preferences". 2002. (Dr. Rashmi Nautiyal)
"A Study of The Relationship of Cognitive Dysfunctions With Heavy Metal Toxicity". 2002. (Dr. Neeraj Mittal)
"A Study of Self – Concept, Level of Aspiration and Adjustment in Relation To Academic Achievement of School Going Children of Agra". 2002. (Dr. Ashish Kumar Singh Chauhan)
"The Causative Factors For Underachievement in Sciences". 2005. (Dr. Mrs. Preeti Monik)
"Impact On Personality Types And Traits On The Performance Of Cricket Players Of National Level". 2011. (Dr.Khwaja Nishat Husain)
References
[
]
Persondata
NAME
Amit Abraham
ALTERNATIVE NAMES
SHORT DESCRIPTION
DATE OF BIRTH
PLACE OF BIRTH
DATE OF DEATH
PLACE OF DEATH