Assessment | Biopsychology | Comparative | Cognitive | Developmental | Language | Individual differences | Personality | Philosophy | Social |
Methods | Statistics | Clinical | Educational | Industrial | Professional items | World psychology |
Clinical: Approaches · Group therapy · Techniques · Types of problem · Areas of specialism · Taxonomies · Therapeutic issues · Modes of delivery · Model translation project · Personal experiences ·
---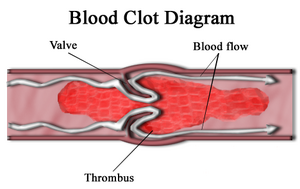 A thrombus, or blood clot, is the final product of the blood coagulation step in hemostasis. It is achieved via the aggregation of platelets that form a platelet plug, and the activation of the humoral coagulation system (i.e. clotting factors). A thrombus is normal in cases of injury (but see also thrombosis).
Specifically, a thrombus is a blood clot in an intact blood vessel. A thrombus in a large blood vessel will decrease blood flow through that vessel. In a small blood vessel, blood flow may be completely cut-off resulting in death of tissue supplied by that vessel. If a thrombus dislodges and becomes free-floating, it is an embolus.
Some of the conditions which elevate risk of blood clots developing include atrial fibrillation (a form of cardiac arrhythmia), heart valve replacement, a recent heart attack, extended periods of inactivity (see deep venous thrombosis), and genetic or disease-related deficiencies in the blood's clotting abilities.
Blood clot prevention reduces the risk of stroke, heart attack and pulmonary embolism. Heparin and warfarin are often used to inhibit the formation and growth of existing blood clots; they are able to decrease blood coagulation by inhibiting vitamin K epoxide reductase, an enzyme that recycles oxidated vitamin K to its reduced form after it has participated in the carboxylation of several blood coagulation proteins, mainly prothrombin and factor VII.
Virchow's triad describes the conditions necessary for thrombus formation:
Changes in vessel wall morphology (e.g. trauma, atheroma)
Changes in blood flow through the vessel (e.g. valvulitis, aneurysm)
Changes in blood composition (e.g. leukaemia, hypercoagulability disorders)
Disseminated intravascular coagulation (DIC) involves widespread microthrombi formation throughout the majority of the blood vessels. This is due to excessive consumption of coagulation factors and fibrinolysis using all of the body's available platelets and clotting factors. The end result is ischaemic necrosis of the affected tissue/organs and spontaneous bleeding due to the lack of clotting factors. Causes are septicaemia, acute leukaemia, shock, snake bites or severe trauma. Treatment involves the use of fresh, frozen plasma to restore the level of clotting factors in the blood.
Community content is available under
CC-BY-SA
unless otherwise noted.