Assessment | Biopsychology | Comparative | Cognitive | Developmental | Language | Individual differences | Personality | Philosophy | Social |
Methods | Statistics | Clinical | Educational | Industrial | Professional items | World psychology |
Biological: Behavioural genetics · Evolutionary psychology · Neuroanatomy · Neurochemistry · Neuroendocrinology · Neuroscience · Psychoneuroimmunology · Physiological Psychology · Psychopharmacology (Index, Outline)
---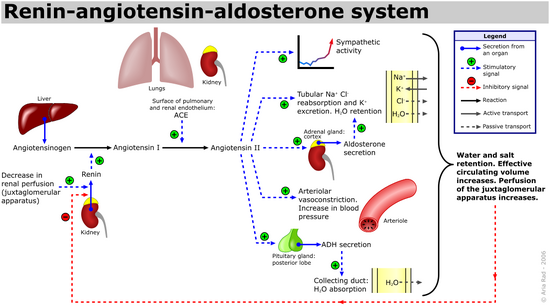 The
renin-angiotensin system
(RAS) or the
renin-angiotensin-aldosterone system
(RAAS) is a hormone system that helps regulate long-term
blood pressure
and extracellular volume in the body.
Activation
Edit
The system can be activated when there is a loss of blood volume or a drop in blood pressure (such as in a hemorrhage).
If the perfusion of the juxtaglomerular apparatus in the kidneys decreases, then the juxtaglomerular cells release the enzyme renin.
Renin cleaves an inactive peptide called angiotensinogen, converting it into angiotensin I.
Angiotensin I is then converted to angiotensin II by angiotensin-converting enzyme (ACE),[1] which is found mainly in lung capillaries.
Angiotensin I may have some minor activity, but angiotensin II is more potent. Angiotensin II has a variety of effects on the body:
These effects directly act to increase the amount of fluid in the blood, making up for a loss in volume, and to increase blood pressure.
Clinical significance
Edit
The renin-angiotensin system is often manipulated clinically to treat high blood pressure.
Other uses of ACE
Edit
Interestingly, ACE cleaves a number of other peptides, and in this capacity is an important regulator of the kinin-kallikrein system.
Fetal renin-angiotensin system
Edit
In the fetus, the renin-angiotensin system is predominantly a sodium-losing system, as angiotensin II has little or no effect on aldosterone levels. Renin levels are high in the fetus, while angiotensin II levels are significantly lower — this is due to the limited pulmonary blood flow, preventing ACE (found predominantly in the pulmonary circulation) from having its maximum effect.
References
Edit
External links
Edit
Community content is available under
CC-BY-SA
unless otherwise noted.