Assessment | Biopsychology | Comparative | Cognitive | Developmental | Language | Individual differences | Personality | Philosophy | Social |
Methods | Statistics | Clinical | Educational | Industrial | Professional items | World psychology |
Statistics: Scientific method · Research methods · Experimental design · Undergraduate statistics courses · Statistical tests · Game theory · Decision theory
---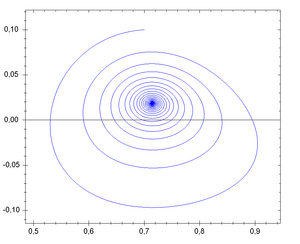 In mathematics and physics, phase space is the space in which all possible states of a system are represented, with each possible state of the system corresponding to one unique point in the phase space. For mechanical systems, the phase space usually consists of all possible values of position and momentum variables. A plot of position and momentum variables as a function of time is sometimes called a phase diagram. This term, however, is more usually reserved in the physical sciences for a diagram showing the various regions of stability of the thermodynamic phases of a chemical system, as a function of pressure, temperature etc.
In phase space, every degree of freedom or parameter of the system is represented as an axis of a multidimensional space. For every possible state of the system, or allowed combination of values of the system's parameters, a point is plotted in the multidimensional space. Often this succession of plotted points is analogous to the system's state evolving over time. In the end, the phase diagram represents all that the system can be, and its shape can easily elucidate qualities of the system that might not be obvious otherwise. A phase space may contain very many dimensions. For instance, a gas containing many molecules may require a separate dimension for each particle's x, y and z positions and velocities as well as any number of other properties.
.
For simple systems, such as a single particle moving in one dimension for example, there may be as few as two degrees of freedom, (typically, position and velocity), and a sketch of the phase portrait may give qualitative information about the dynamics of system, such as the limit-cycle of the Van der Pol oscillator shown in the diagram.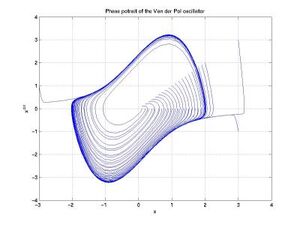 Here, the horizontal axis gives the position and vertical axis the velocity. As the system evolves, its state follows one of the lines (trajectories) on the phase diagram.
A classic example of a phase diagram from chaos theory is the Lorenz attractor.
Community content is available under
CC-BY-SA
unless otherwise noted.