Assessment | Biopsychology | Comparative | Cognitive | Developmental | Language | Individual differences | Personality | Philosophy | Social |
Methods | Statistics | Clinical | Educational | Industrial | Professional items | World psychology |
Biological: Behavioural genetics · Evolutionary psychology · Neuroanatomy · Neurochemistry · Neuroendocrinology · Neuroscience · Psychoneuroimmunology · Physiological Psychology · Psychopharmacology (Index, Outline)
---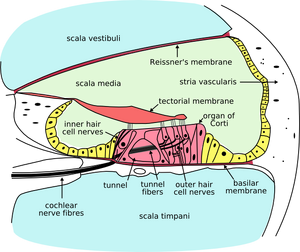 Perilymph is an extracellular fluid located within the cochlea (part of the ear) in 2 of its 3 compartments; the scala tympani and scala vestibuli. The ionic composition of perilymph is comparable to that of plasma and cerebrospinal fluid. The major cation of perilymph is sodium.
Perilymph vs. endolymph
[
]
The third compartment of the ear, the cochlear duct (or scala media) contains endolymph. Perilymph and endolymph have unique ionic compositions suited to their functions in regulating electrochemical impulses of hair cells. The electric potential of endolymph is ~80-90 mV more positive than perilymph due to a higher concentration of K compared to Na.[1]
Clinical significance
[
]
It has also been suggested that perilymph and endolymph participate in a unidirectional flow that is interrupted in Meniere's disease.
References
[
]
↑ Konishi T, Hamrick PE, Walsh PJ (1978). Ion transport in guinea pig cochlea. I. Potassium and sodium transport. Acta Otolaryngol. 86 (1-2): 22–34.
External links
[
]
Sensory system: Auditory and Vestibular systems (TA A15.3, GA 10.1029)

Outer ear

Pinna (Helix, Antihelix, Tragus, Antitragus, Incisura anterior auris, Earlobe) • Ear canal • Auricular muscles


Middle ear




Labyrinthine wall/medial: Oval window · Round window • Secondary tympanic membrane • Prominence of facial canal • Promontory of tympanic cavity

Membranous wall/lateral

Mastoid wall/posterior: Mastoid cells • Aditus to mastoid antrum • Pyramidal eminence

Carotid wall/anterior

Tegmental wall/roof: Epitympanic recess

Jugular wall/floor


Malleus (Neck of malleus, Superior ligament of malleus, Lateral ligament of malleus, Anterior ligament of malleus) · Incus (Superior ligament of incus, Posterior ligament of incus) · Stapes (Anular ligament of stapes)


Stapedius · Tensor tympani


Bony part of pharyngotympanic tube · Cartilage of pharyngotympanic tube (Torus tubarius)



Inner ear/
(membranous labyrinth,
bony labyrinth)


{| class="navbox collapsible nowraplinks" style="margin:auto; "




| | | | |
| --- | --- | --- | --- |
| | | | |
|}