Assessment | Biopsychology | Comparative | Cognitive | Developmental | Language | Individual differences | Personality | Philosophy | Social |
Methods | Statistics | Clinical | Educational | Industrial | Professional items | World psychology |
Personality: Self concept · Personality testing · Theories · Mind-body problem
---

The
Performer
Artisan
is one of the 16 role variants of the
Keirsey Temperament Sorter
,
[1]
a self-assessed personality questionnaire designed to help people better understand themselves.
David Keirsey
originally described the Performer role variant; however, a brief summary of the personality types described by
Isabel Myers
contributed to its development. Performers
correlate
with the
ESFP
Myers-Briggs
type.
[2]
Performers are tactical entertainers, concrete in speech and utilitarian in action. In social situations, they are informative and expressive.[2] The most fun-loving of all the types, Performers excel at delighting others with their artistry and humor. They continually seek stimulating experiences with those around them. Performers dislike being alone, which is seldom a problem because they naturally attract the attention of other people. They live in the fast lane, keeping abreast of the latest trends. They are drawn to sensory pleasure, sometimes without thought for the consequences. Though Performers are more subject to temptation than the other types, their zest for enjoying life is mostly a healthy pursuit. Incurable optimists, they are generous to a fault. They live in the moment and trust that tomorrow will take care of itself. [1]
Notable Performers
Edit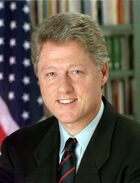 For illustrative purposes,
Keirsey
and his son, David M. Keirsey,
[3]
have identified well-known individuals whose
behavior
is consistent with a specific type. Unless otherwise noted, the categorization of the individuals below, whether living or dead, as Performers is a matter of expert opinion rather than the result of the named individual taking a personality type inventory.
Bill Clinton, US president
Ronald Reagan, US president
Leonard Bernstein, composer, conductor, and pianist
Magic Johnson, basketball player
Elvis Presley, musician, actor, and entertainer
Elizabeth Taylor, actress
Notes and references
Edit
External links
Edit
-->
Community content is available under
CC-BY-SA
unless otherwise noted.