Assessment | Biopsychology | Comparative | Cognitive | Developmental | Language | Individual differences | Personality | Philosophy | Social |
Methods | Statistics | Clinical | Educational | Industrial | Professional items | World psychology |
Biological: Behavioural genetics · Evolutionary psychology · Neuroanatomy · Neurochemistry · Neuroendocrinology · Neuroscience · Psychoneuroimmunology · Physiological Psychology · Psychopharmacology (Index, Outline)
---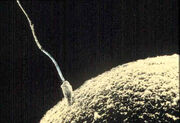 Oogamy is the familiar form of sexual reproduction. It is a form of anisogamy (heterogamy) in which the female gamete (e.g. egg cell) is significantly larger than the male gamete and is non-motile. The male gametes are typically highly motile spermatozoa competing for the fertilization of the immotile egg.
By contrast to isogamy, the gametes are specialized. The ovum contains nearly all of the materials that will be needed by the zygote after fertilization, but it typically cannot move. The sperm contains almost nothing but the male genetic contribution to the zygote, but it is usually tasked with all of the travel necessary to bring the respective gametes together. The prevalence of oogamy in higher animals leads to the conclusion that this specialization of the gametes results in their performing their respective tasks better and more efficiently than those tasks could be performed by generalist isogametes, particularly the ability to concentrate high-energy substances in a smaller number of ova.

It appears that isogamy was the first stage of sexual reproduction. In several lineages, this form of reproduction independently evolved to anisogamy with gametes of male and female types to oogamy. There is a good argument that this pattern was driven by the physical constraints on the mechanisms by which two gametes get together as required for sexual reproduction.[1]
References
[
]
↑ Dusenbery, David B. (2009). Living at Micro Scale, Chapter 20. Harvard University Press, Cambridge, Mass. ISBN 978-0-674-03116-6.
See also
[
]