Assessment | Biopsychology | Comparative | Cognitive | Developmental | Language | Individual differences | Personality | Philosophy | Social |
Methods | Statistics | Clinical | Educational | Industrial | Professional items | World psychology |
Biological: Behavioural genetics · Evolutionary psychology · Neuroanatomy · Neurochemistry · Neuroendocrinology · Neuroscience · Psychoneuroimmunology · Physiological Psychology · Psychopharmacology (Index, Outline)
---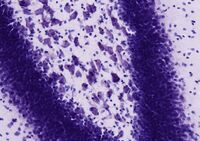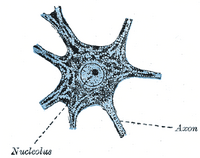 A Nissl body (or Nissl granule or tigroid body) is a large granular body found in nerve cells. It was named after Franz Nissl, German neurologist (1860-1919).
Nissl bodies can be demonstrated by selective staining, which was developed by Nissl and was an aniline stain used to label extranuclear RNA granules.
These granules are rough endoplasmic reticulum (with ribosomes) and are the site of protein synthesis.
Nissl bodies show changes under various physiological conditions and in pathological conditions they may dissolve and disappear (karyolysis).
Histology at Boston University 04103loa - "Nervous Tissue and Neuromuscular Junction: spinal cord, cell bodies of anterior horn cells"
Memorial University of Newfoundland - Anatomy at MUN nerve/nerve97 (halfway down page)
de:Nissl-Färbung
fr:coloration de Nissl
Histology: nervous tissue

Neurons (gray matter)

soma, axon (axon hillock, axoplasm, axolemma, neurofibril/neurofilament), dendrite (Nissl body, dendritic spine, apical dendrite, basal dendrite)
types (bipolar, pseudounipolar, multipolar, pyramidal, Purkinje, granule)


Afferent nerve/Sensory nerve/Sensory neuron

GSA, GVA, SSA, SVA, fibers (Ia, Ib or Golgi, II or Aβ, III or Aδ or fast pain, IV or C or slow pain)


Efferent nerve/Motor nerve/Motor neuron

GSE, GVE, SVE, Upper motor neuron, Lower motor neuron (α motorneuron, γ motorneuron)


Synapses

neuropil, synaptic vesicle, neuromuscular junction, electrical synapse - Interneuron (Renshaw)


Sensory receptors

Free nerve ending, Meissner's corpuscle, Merkel nerve ending, Muscle spindle, Pacinian corpuscle, Ruffini ending, Olfactory receptor neuron, Photoreceptor cell, Hair cell, Taste bud


Glial cells

astrocyte, oligodendrocyte, ependymal cells, microglia, radial glia


Myelination (white matter)

Schwann cell, oligodendrocyte, nodes of Ranvier, internode, Schmidt-Lanterman incisures, neurolemma


Related connective tissues

epineurium, perineurium, endoneurium, nerve fascicle, meninges
Community content is available under
CC-BY-SA
unless otherwise noted.