Assessment | Biopsychology | Comparative | Cognitive | Developmental | Language | Individual differences | Personality | Philosophy | Social |
Methods | Statistics | Clinical | Educational | Industrial | Professional items | World psychology |
Biological: Behavioural genetics · Evolutionary psychology · Neuroanatomy · Neurochemistry · Neuroendocrinology · Neuroscience · Psychoneuroimmunology · Physiological Psychology · Psychopharmacology (Index, Outline)
---
Mescaline (3,4,5-trimethoxyphenethylamine) is a hallucinogenic alkaloid of the phenethylamine class.
It occurs naturally in the peyote cactus (Lophophora williamsii), the San Pedro cactus (Echinopsis pachanoi) and the Peruvian Torch cactus (Echinopsis peruviana), and it is also found in a number of other members of the Cactaceae. It can be extracted from these sources. Mescaline was first isolated and identified in 1897 by the German Arthur Heffterand first synthesized in 1919 by Ernst Späth.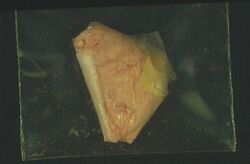 The use of extract from peyote in Native American religious ceremonies has been noted since the earliest European contact, notably by the Huichols in Mexico.
For the drug to take effect, disk-shaped buttons are cut from the roots, on the top of the cactus, and dried. It is chewed to produce its effect or soaked in water for an intoxicating drink. The effective human dosage is 0.3–0.5 grams, with the effects lasting for up to 12 hours. Users typically experience visual hallucinations and radically altered states of consciousness, often experienced as pleasurable and illuminating but occasionally as accompanied by feelings of anxiety or revulsion. It is not physically addictive.
In the US it was made illegal in 1970 by the Comprehensive Drug Abuse Prevention and Control Act. It was prohibited internationally by the 1971 Convention on Psychotropic Substances[1] and is categorized as a Schedule I hallucinogen by the CSA.
A common synthetical approach starts from 3,4,5-trimethoxybenzaldehyde. the chemecial make-up is C11H17NO3(PiHKAL entry).
One or more of the following effects may or may not accompany any individual experience with mescaline.
Open eye visuals
Closed-eye visuals
New thought processes
Dream-like scenarios
Euphoria
Mystical experience
Temporary splitting/destruction of ego
Dizziness
Diarrhea
Anxiety
Feeling of dying
Fear of not being able to return to normal consciousness
Irrationality of the thought-process
Community content is available under
CC-BY-SA
unless otherwise noted.