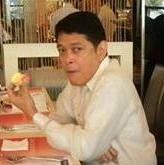 Jose A. Fadul (b. July 2, 1961) is a former Professor at the De La Salle-College of Saint Benilde in Manila. He is an author of several articles in Filipino Psychology, and the principal author of the book, Chess Therapy.[1].
Education
[
]
He is a graduate of U.P. Diliman.
Accomplishments
[
]
He observesd both consistencies and inconsistencies in the ritual Pagtatawas and suggests that the diagnoses obtained can be explained in terms of the stock knowledge of the albularyo and recovery from illness must be largely due to placebo effect.[2] He notes that that the method of interpretations in pagtatawas can be compared with the earlier methods of interpretations in the Rorschach inkblot test, and thus, is expected to be rejected by rival schools of thoughts in psychology. Furthermore, he believes that pagtatawas still flourish in many rural areas in the Philippines because medical facilities remain expensive and inaccessible[3].
He is the general editor of The Encyclopedia Rizaliana is one of the more recent subject-specific encyclopedias in the English language. As the name suggests, it is published mainly for those who would like to know and learn more about the Philippines' foremost patriot, Dr. Jose Protasio Rizal: his life, his works, and his continuing influences. He has also contributed substantially to the project itself.
Publications
[
]
A Workbook for a Course in General Psychology.
Lessons in Chess, Lessons in Life.
Chess Therapy.
A Workbook for an Introduction to Sociology.
The Learning-Centered Paradign: synthesis of the Curriculu-centered and Learner-centered paradigms
Mathematical Formulations of Learning
Resonant Teaching.
Collective Learning.
Epicity
Curriculum for the EPIC Generation.
References
[
]
↑ Fadul, J; Canlas, R (2009), Chess Therapy, http://www.google.com/books?hl=en&lr=&id=ARdncCWznjUC&oi=fnd&pg=PT8&dq=Fadul+Chess+Therapy&ots=XGkgl42sqw&sig=8GsW2OP2dVqcT9HCcVcPL0tseCY#v=onepage&q=&f=false

, retrieved on 2009-12-27

 

↑

Public Forum on Witchcraft and Illnesses. Rizal Technological and Polytechnic Institute, Morong, Rizal. July 24, 1988.

↑

100% PINOY (Kapuso Network's cultural program on GMA7 featuring Filipino Culture and Ingenuity. Hosted by Miriam Quiambao and Joaquin Valdes, aired internationally through GMA Pinoy TV. "Bata, bata, paano ka ginawa?" episode aired August 28, 2008. Pinoy culture, beliefs and practices about "paglilihi, pagbubuntis, panganganak at pag-aalaga sa bata". Actual interview with Dr. Jose A. Fadul held in De La Salle-College of Saint Benilde, Manila on August 22, 2008