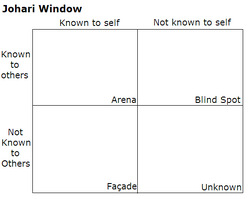 A Johari window is a metaphorical tool intended to help people better understand their interpersonal communication and relationships. It is used primarily in self-help groups and corporate settings as a heuristic exercise.
Terms selected only by the participant, but not by any of their peers, are placed into the Façade quadrant, representing information about the participant of which their peers are unaware. It is then up to the participant whether or not to disclose this information.
Terms that are not selected by the participant but only by their peers are placed into the Blind Spot quadrant. These represent information of which the participant is not aware, but others are, and they can decide whether and how to inform the individual about these "blind spots".
Terms which were not selected by either the participant or their peers remain in the Unknown quadrant, representing the participant's behaviors or motives which were not recognized by anyone participating. This may be because they do not apply, or because there is collective ignorance of the existence of that trait.
Assessment | Biopsychology | Comparative | Cognitive | Developmental | Language | Individual differences | Personality | Philosophy | Social |
Methods | Statistics | Clinical | Educational | Industrial | Professional items | World psychology |
Social psychology: Altruism · Attribution · Attitudes · Conformity · Discrimination · Groups · Interpersonal relations · Obedience · Prejudice · Norms · Perception · Index · Outline
---
A Nohari window is the inversion of the Johari window, and is a collection of negative personality traits instead of positive.
The original written publication appears to be: Luft, J. and Ingham, H. (1955) "The Johari window, a graphic model of interpersonal awareness", Proceedings of the western training laboratory in group development. Los Angeles: UCLA
Community content is available under
CC-BY-SA
unless otherwise noted.