Assessment | Biopsychology | Comparative | Cognitive | Developmental | Language | Individual differences | Personality | Philosophy | Social |
Methods | Statistics | Clinical | Educational | Industrial | Professional items | World psychology |
Welcome to the tutorial. This is a simple guide to editing on the Psychology Wiki.
What is the Psychology Wiki?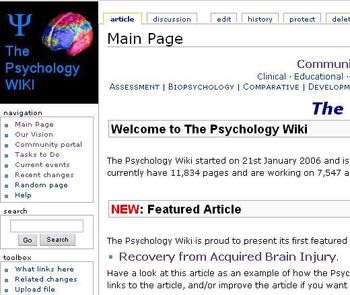 The Psychology Wiki is a community website that you can edit. Almost any part of this site can be edited by any visitor. For more about the project, see Our Vision.
How do I create an account?
You don't have to create an account to edit, but it is a good idea to do so. It's free, and very easy.
Click on the "Create an account or log in" link in the top right of any page, or Click here
Fill in your chosen user name and a password (remember, this user name will show against all your edits)
Type in your password again in the "Retype password" box.
If you want to, add your email. You don't have to add an email, but it will mean that you won't lose your account if you forget your password. Also it will enable people to send you messages about changes/updates to the Psychology Wiki - but don't worry, we don't let anyone see your email, so you can still be anonymous.
Click the "Create new account" button.
How do I log in?
Just click the "log in" link at the top of any page. This will open a box where you can enter your username and password. You might want to leave "Remember me" unchecked if using a public computer. If you don't have an account, you can create one right away.
How do I change my email, password and other options?
Almost everything you might want to change can be found in your preferences. This can be found in the userbar at the top of every page - just click the link next to your username, or by visiting Special:Preferences.
If you somehow forget your password and are unable to reset it using the normal means, please Contact Psychology Wiki.
What can I do here?
Don't be afraid to edit - anyone can edit almost any page, and we encourage you to have a go! Find something that can be improved, either in content, grammar or formatting, and fix it.
You can't break the Psychology Wiki. Anything you change can be fixed or improved later. So go ahead, find a page and edit.
For more help on
how to edit
, go to
page two of this tutorial
.

See Also:
Community content is available under
CC-BY-SA
unless otherwise noted.