Assessment | Biopsychology | Comparative | Cognitive | Developmental | Language | Individual differences | Personality | Philosophy | Social |
Methods | Statistics | Clinical | Educational | Industrial | Professional items | World psychology |
Biological: Behavioural genetics · Evolutionary psychology · Neuroanatomy · Neurochemistry · Neuroendocrinology · Neuroscience · Psychoneuroimmunology · Physiological Psychology · Psychopharmacology (Index, Outline)
---
The guenons are the genus Cercopithecus of Old World monkeys. Not all the members of this genus have the word "guenon" in their common names, and because of changes in scientific classification, some monkeys in other genera may have common names that do include the word "guenon". Nonetheless the use of the term guenon for monkeys of this genus is widely accepted.
All members of the genus are endemic to Africa, and most are forest monkeys. Many of the species are quite local in their ranges, and some have even more local subspecies. All or nearly all are threatened or endangered because of habitat loss.
Genus Cercopithecus
C. dryas group
C. diana group
C. mitis group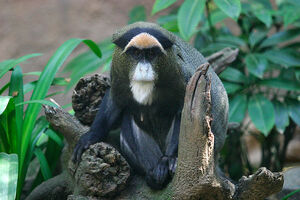 .
Community content is available under
CC-BY-SA
unless otherwise noted.