Assessment | Biopsychology | Comparative | Cognitive | Developmental | Language | Individual differences | Personality | Philosophy | Social |
Methods | Statistics | Clinical | Educational | Industrial | Professional items | World psychology |
Biological: Behavioural genetics · Evolutionary psychology · Neuroanatomy · Neurochemistry · Neuroendocrinology · Neuroscience · Psychoneuroimmunology · Physiological Psychology · Psychopharmacology (Index, Outline)
---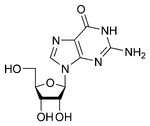 Guanosine is a nucleoside comprising guanine attached to a ribose (ribofuranose) ring via a β-N9-glycosidic bond.
Guanosine can be phosphorylated to become GMP (guanosine monophosphate), cGMP (cyclic guanosine monophosphate), GDP (guanosine diphosphate) and GTP (guanosine triphosphate).
When guanine is attached to a deoxyribose ring, it is known as a deoxyguanosine.
See also
[
]
External links
[
]