Assessment | Biopsychology | Comparative | Cognitive | Developmental | Language | Individual differences | Personality | Philosophy | Social |
Methods | Statistics | Clinical | Educational | Industrial | Professional items | World psychology |
Biological: Behavioural genetics · Evolutionary psychology · Neuroanatomy · Neurochemistry · Neuroendocrinology · Neuroscience · Psychoneuroimmunology · Physiological Psychology · Psychopharmacology (Index, Outline)
---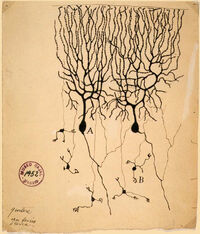 In neuroscience, granule cells refer to tiny neurons (a type of cell) that are around 10 micrometres in diameter. Granule cells are found within the granular layer of the cerebellum, layer 4 of cerebral cortex, the dentate gyrus of the hippocampus, and in the olfactory bulb.
While anatomically similar, granule cells in different brain regions are functionally diverse. For instance, olfactory bulb granule cells are GABAergic and axonless, while granule cells in the dentate gyrus have glutamatergic projection axons. Interestingly, these two populations of granule cells are also the only major neuronal populations that undergo adult neurogenesis, while cerebellar and cortical granule cells do not.
Cerebellar granule cells account for nearly half of the neurons in the central nervous system. Granule cells receive excitatory input from mossy fibers originating from pontine nuclei. Cerebellar granule cells send parallel fibers up through the Purkinje layer into the molecular layer where they branch out and spread through Purkinje cell dendritic arbors. These parallel fibers form thousands of excitatory synapses with Purkinje cells.
Layer 4 granule cells of the cerebral cortex receive driving inputs from thalamus and convey driving inputs largely to supragranular layers 2-3, but also to infragranular layers of the cerebral cortex.
Histology: nervous tissue

Neurons (gray matter)

soma, axon (axon hillock, axoplasm, axolemma, neurofibril/neurofilament), dendrite (Nissl body, dendritic spine, apical dendrite, basal dendrite)
types (bipolar, pseudounipolar, multipolar, pyramidal, Purkinje, granule)


Afferent nerve/Sensory nerve/Sensory neuron

GSA, GVA, SSA, SVA, fibers (Ia, Ib or Golgi, II or Aβ, III or Aδ or fast pain, IV or C or slow pain)


Efferent nerve/Motor nerve/Motor neuron

GSE, GVE, SVE, Upper motor neuron, Lower motor neuron (α motorneuron, γ motorneuron)


Synapses

neuropil, synaptic vesicle, neuromuscular junction, electrical synapse - Interneuron (Renshaw)


Sensory receptors

Free nerve ending, Meissner's corpuscle, Merkel nerve ending, Muscle spindle, Pacinian corpuscle, Ruffini ending, Olfactory receptor neuron, Photoreceptor cell, Hair cell, Taste bud


Glial cells

astrocyte, oligodendrocyte, ependymal cells, microglia, radial glia


Myelination (white matter)

Schwann cell, oligodendrocyte, nodes of Ranvier, internode, Schmidt-Lanterman incisures, neurolemma


Related connective tissues

epineurium, perineurium, endoneurium, nerve fascicle, meninges
de:Körnerzelle
ru:Гранулярная клетка
Community content is available under
CC-BY-SA
unless otherwise noted.