Assessment | Biopsychology | Comparative | Cognitive | Developmental | Language | Individual differences | Personality | Philosophy | Social |
Methods | Statistics | Clinical | Educational | Industrial | Professional items | World psychology |
Biological: Behavioural genetics · Evolutionary psychology · Neuroanatomy · Neurochemistry · Neuroendocrinology · Neuroscience · Psychoneuroimmunology · Physiological Psychology · Psychopharmacology (Index, Outline)
---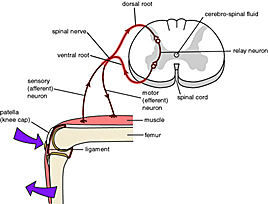 In the nervous system, efferent nerves – otherwise known as motor or effector neurons – carry nerve impulses away from the central nervous system to effectors such as muscles or glands (and also the ciliated cells of the inner ear). The term can also be used to describe relative connections between nervous structures. The opposite activity of direction or flow is afferent.
The motor nerves are efferent nerves involved in muscular control. The cell body of the efferent neuron is found in the central nervous system where it is connected to a single, long axon and several short dendrites projecting out of the cell body itself. This axon then forms a neuromuscular junction with the effectors. The cell body of the motor neuron is satellite-shaped. The motor neuron is present in the grey matter of the spinal cord and medulla oblongata, and forms an electrochemical pathway to the effector organ or muscle.
Both afferent and efferent come from French, evolved from Latin (the basis of many terms in medicine and biology) for the terms, respectively, ad ferens (latin verb ferre: carry), meaning carrying into, and ex ferens, meaning carrying away. Ad and ex give an easy mnemonic device for remembering the relationship between afferent and efferent: afferent connection arrives and an efferent connection exits.[1]
Histology: nervous tissue

Neurons (gray matter)

soma, axon (axon hillock, axoplasm, axolemma, neurofibril/neurofilament), dendrite (Nissl body, dendritic spine, apical dendrite, basal dendrite)
types (bipolar, pseudounipolar, multipolar, pyramidal, Purkinje, granule)


Afferent nerve/Sensory nerve/Sensory neuron

GSA, GVA, SSA, SVA, fibers (Ia, Ib or Golgi, II or Aβ, III or Aδ or fast pain, IV or C or slow pain)


Efferent nerve/Motor nerve/Motor neuron

GSE, GVE, SVE, Upper motor neuron, Lower motor neuron (α motorneuron, γ motorneuron)


Synapses

neuropil, synaptic vesicle, neuromuscular junction, electrical synapse - Interneuron (Renshaw)


Sensory receptors

Free nerve ending, Meissner's corpuscle, Merkel nerve ending, Muscle spindle, Pacinian corpuscle, Ruffini ending, Olfactory receptor neuron, Photoreceptor cell, Hair cell, Taste bud


Glial cells

astrocyte, oligodendrocyte, ependymal cells, microglia, radial glia


Myelination (white matter)

Schwann cell, oligodendrocyte, nodes of Ranvier, internode, Schmidt-Lanterman incisures, neurolemma


Related connective tissues

epineurium, perineurium, endoneurium, nerve fascicle, meninges
Community content is available under
CC-BY-SA
unless otherwise noted.