Assessment | Biopsychology | Comparative | Cognitive | Developmental | Language | Individual differences | Personality | Philosophy | Social |
Methods | Statistics | Clinical | Educational | Industrial | Professional items | World psychology |
Animals · Animal ethology · Comparative psychology · Animal models · Outline · Index
---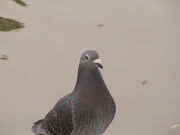 For the experimental model animal see Rock Pigeon
Pigeons and doves constitute the family Columbidae within the order Columbiformes, which include some 300 species of near passerine birds. In general parlance the terms "dove" and "pigeon" are used somewhat interchangeably. In ornithological practice, there is a tendency for "dove" to be used for smaller species and "pigeon" for larger ones, but this is in no way consistently applied, and historically the common names for these birds involve a great deal of variation between the term "dove" and "pigeon." This family occurs worldwide, but the greatest variety is in the Indomalaya and Australasia ecozones. The young doves and pigeons are called "squabs."
Pigeons and doves are stout-bodied birds with short necks and short slender bills with a fleshy cere. The species commonly referred to just as the "pigeon" is the feral Rock Pigeon, common in many cities.
Their usually flimsy nests are made of sticks, and the two white eggs are incubated by both sexes. Doves feed on seeds, fruit and plants. Unlike most other birds (but see flamingo), the doves and pigeons produce "crop milk," which is secreted by a sloughing of fluid-filled cells from the lining of the crop. Both sexes produce this highly nutritious substance to feed to the young.
This family is a highly coherent group with no members showing obvious links with other bird families, or vice versa. The dodo and solitaires are clearly related, as discussed below, but equally lacking in obvious links with other bird families. The limited fossil record also consists only of unequivocal Columbidae species. Links to the sandgrouse and parrots have been suggested, but resemblances to the first group are due to convergent evolution[How to reference and link to summary or text] and the second depend on the parrot-like features of the Tooth-billed Pigeon. However, the distinctive features of that bird seem to have arisen from its specialized diet rather than a real relationship to the parrots.
The family is usually divided into five subfamilies, but this is probably inaccurate. For example, the American ground and quail doves which are usually placed in the Columbinae seem to be two distinct subfamilies[1]. The order presented here follows Baptista et al. (1997) with some updates (Johnson & Clayton 2000, Johnson et al. 2001, Shapiro et al. 2002).
Note that the arrangement of genera and naming of subfamilies is in some cases provisional because analyzes of different DNA sequences yield results that differ, often radically, in the placement of certain (mainly Indo-Australian) genera. This ambiguity, probably caused by Long branch attraction, seems to confirm that the first pigeons evolved in the Australasian region, and that the "Treronidae" and allied forms (crowned and pheasant pigeons, for example) represent the earliest radiation of the group.
As the Dodo and Rodrigues Solitaire are in all likelihood part of the Indo-Australian radiation that produced the 3 small subfamilies mentioned above with the fruit-doves and -pigeons (including the Nicobar Pigeon), they are here included as a subfamily Raphinae, pending better material evidence of their exact relationships.
Exacerbating these issues, columbids are not well represented in the fossil record. No truly primitive forms have been found to date. The genus Gerandia which most likely belongs to the Columbinae has been described from Early Miocene deposits of France. Apart from that, all other fossils belong to extant genera. For these, and for the considerable number of more recently extinct prehistoric species, see the respective genus accounts.
A list of all the species, sortable by common and scientific name, is at list of Columbidae species
Subfamily Columbinae - typical pigeons & doves
[
edit
|
edit source
]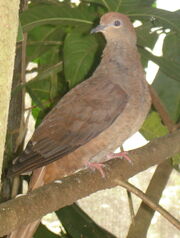 Genus Columba including Aplopelia - Old World pigeons (33-34 living species, 2-3 recently extinct)
Genus Streptopelia including Stigmatopelia and Nesoenas - turtledoves (14-18 living species)
Genus Patagioenas - American pigeons; formerly included in Columba (17 species)
Genus Macropygia (10 species)
Genus Reinwardtoena (3 species)
Genus Turacoena (2 species)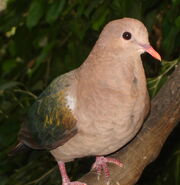 Subfamily N.N. - Bronzewings and relatives
[
edit
|
edit source
]
Genus Turtur - African wood-doves (5 species; tentatively placed here)
Genus Oena - Namaqua Dove (tentatively placed here)
Genus Chalcophaps (2 species)
Genus Henicophaps (2 species)
Genus Phaps (3 species)
Genus Ocyphaps - Crested Pigeon
Genus Geophaps (3 species)
Genus Petrophassa - rock-pigeons (2 species)
Genus Geopelia (3-5 species)
Subfamily Leptotilinae - Zenaidine and quail-doves
[
edit
|
edit source
]
Genus Zenaida (7 species)
Genus Ectopistes - Passenger Pigeon (extinct; 1914)
Genus Leptotila
Genus Geotrygon - quail-doves
Genus Starnoenas
Subfamily Columbininae - American ground doves
[
edit
|
edit source
]
Genus Columbina
Genus Claravis
Genus Metriopelia
Genus Scardafella - possibly belongs into Columbina
Genus Uropelia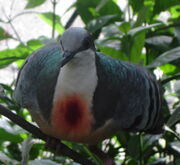 Subfamily N.N. - Indopacific ground doves
[
edit
|
edit source
]
Genus Gallicolumba (16-17 living species, 3-4 recently extinct)
Genus Trugon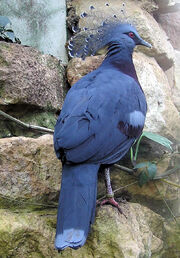 Subfamily Otidiphabinae - Pheasant Pigeon
[
edit
|
edit source
]
Genus Otidiphaps - Pheasant Pigeon
Subfamily Didunculinae - Tooth-billed Pigeon
[
edit
|
edit source
]
Genus Didunculus
Subfamily Gourinae - crowned pigeons
[
edit
|
edit source
]
Genus Goura (3 species)
Subfamily N.N. ("Treroninae") - green and fruit-doves and imperial pigeons
[
edit
|
edit source
]
Genus Ducula - imperial-pigeons
Genus Lopholaimus - Topknot Pigeon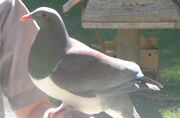 Genus Hemiphaga
Genus Cryptophaps
Genus Gymnophaps - mountain-pigeons
Genus Ptilinopus - fruit-doves (some 50 living species, 1-2 recently extinct)
Genus Natunaornis - Viti Levu Giant Pigeon (prehistoric)
Genus Drepanoptila
Genus Alectroenas - blue pigeons
Genus Raphus - Dodo (extinct; late 17th century)
Genus Pezophaps - Rodrigues Solitaire (extinct; c.1730)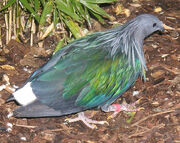 Genus Caloenas
Genus Treron - green pigeons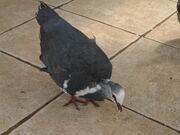 Genus Phapitreron - brown doves
Genus Leucosarcia - Wonga Pigeon
Genus Microgoura - Choiseul Crested Pigeon (extinct; early 20th century)
Genus Dysmoropelia
Genus indeterminate
Henderson Island Archaic Pigeon, Columbidae gen. et sp. indet. (prehistoric)
Gibbs, Barnes and Cox, Pigeons and Doves (Pica Press 2001) ISBN 1-873403-60-7
Several species of pigeon or dove are used as food, and probably any could be; the powerful breast muscles characteristic of the family make excellent meat. In Europe the Wood Pigeon is commonly shot as a game bird, while Rock Pigeons were originally domesticated as a food species, and many breeds were developed for their meat-bearing qualities. The extinction of the Passenger Pigeon was at least partly due to shooting for use as food.
Doves are kosher, and they are the only birds that may be used for a korban. Other kosher birds may be eaten, but not brought as a korban. In the New Testament a dove is the symbol of the Holy Spirit.
Baptista, L. F.; Trail, P. W. & Horblit, H. M. (1997): Order Columbiformes. In: del Hoyo, J.; Elliott, A. & Sargatal, J. (editors): Handbook of birds of the world, Volume 4: Sandgrouse to Cuckoos. Lynx Edicions, Barcelona. ISBN 84-87334-22-9
Johnson, Kevin P. & Clayton, Dale H. (2000): Nuclear and Mitochondrial Genes Contain Similar Phylogenetic. Signal for Pigeons and Doves (Aves: Columbiformes). Molecular Phylogenetics and Evolution 14(1): 141–151. PDF fulltext
Johnson, Kevin P.; de Kort, Selvino; Dinwoodey, Karen, Mateman, A. C.; ten Cate, Carel; Lessells, C. M. & Clayton, Dale H. (2001): A molecular phylogeny of the dove genera Streptopelia and Columba. Auk 118(4): 874-887. PDF fulltext
Shapiro, Beth; Sibthorpe, Dean; Rambaut, Andrew; Austin, Jeremy; Wragg, Graham M.; Bininda-Emonds, Olaf R. P.; Lee, Patricia L. M. & Cooper, Alan (2002): Flight of the Dodo. Science 295: 1683.
REDIRECT Template:Doi
(HTML abstract) Supplementary information
↑ Basically, the conventional treatment had 2 large subfamilies, one for the fruit-doves, imperial pigeons and fruit-pigeons, and another for nearly all of the remaining species. Additionally, there were 3 monotypic subfamilies, one each for the genera Goura, Otidiphaps and Didunculus. The old subfamily Columbinae consists of 5 distinct lineages, whereas the other 4 groups are more or less accurate representations of the evolutionary relationships.

Community content is available under
CC-BY-SA
unless otherwise noted.