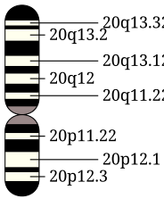 Chromosome 20 is one of the 23 pairs of chromosomes in humans. People normally have two copies of this chromosome. Chromosome 20 spans more than 63 million base pairs (the building material of DNA) and represents between 2 and 2.5 percent of the total DNA in cells.
Identifying genes on each chromosome is an active area of genetic research. Because researchers use different approaches to predict the number of genes on each chromosome, the estimated number of genes varies. Chromosome 20 likely contains between 600 and 800 genes.
The following are some of the genes located on chromosome 20:
The following diseases are some of those related to genes on chromosome 20:
Deloukas, P. et al (2001). The DNA sequence and comparative analysis of human chromosome 20. Nature 414 (6866): 865-71. PMID 11780052.
Gilbert, F. (1997). Disease genes and chromosomes: disease maps of the human genome. Genet Test 1 (3): 225-9. PMID 10464650.
Community content is available under
CC-BY-SA
unless otherwise noted.