Assessment | Biopsychology | Comparative | Cognitive | Developmental | Language | Individual differences | Personality | Philosophy | Social |
Methods | Statistics | Clinical | Educational | Industrial | Professional items | World psychology |
Biological: Behavioural genetics · Evolutionary psychology · Neuroanatomy · Neurochemistry · Neuroendocrinology · Neuroscience · Psychoneuroimmunology · Physiological Psychology · Psychopharmacology (Index, Outline)
---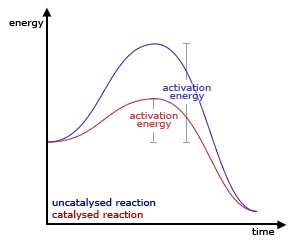 In chemistry and biology, catalysis is the acceleration (increase in rate) of a chemical reaction by means of a substance, called a catalyst, that is itself not consumed by the overall reaction. The word is derived from the Greek noun κατάλυσις, related to the verb καταλύειν, meaning to annul or to untie or to pick up.
Community content is available under
CC-BY-SA
unless otherwise noted.