Assessment | Biopsychology | Comparative | Cognitive | Developmental | Language | Individual differences | Personality | Philosophy | Social |
Methods | Statistics | Clinical | Educational | Industrial | Professional items | World psychology |
Developmental Psychology: Cognitive development · Development of the self · Emotional development · Language development · Moral development · Perceptual development · Personality development · Psychosocial development · Social development · Developmental measures
---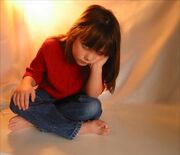 Boredom is a reactive state to wearingly dull, repetitive, or tedious stimuli: suffering from a lack of interesting things to see, hear, or do (physically or intellectually), while not in the mood of "doing nothing." Those afflicted by temporary boredom may regard the affliction as a waste of time, but usually characterize boredom worse than just that. Alternatively one may have the feeling that having too much spare time causes boredom. Indeed, time often appears to move more slowly to someone suffering from boredom. This results from the way in which the human mind measures the passage of time, by the frequency of notable events, the absence of which may cause the feeling of boredom. Boredom can also occur as a symptom of clinical depression and may also lead to impulsive (and sometimes excessive) actions that serve little purpose and may damage one's self-interest. For example, studies in behavioral finance have shown that stock traders can enter into "overtrading" (buying or selling even without any objective reason to do so) simply because they feel bored when they have nothing worth doing.
Community content is available under
CC-BY-SA
unless otherwise noted.