Assessment | Biopsychology | Comparative | Cognitive | Developmental | Language | Individual differences | Personality | Philosophy | Social |
Methods | Statistics | Clinical | Educational | Industrial | Professional items | World psychology |
Biological: Behavioural genetics · Evolutionary psychology · Neuroanatomy · Neurochemistry · Neuroendocrinology · Neuroscience · Psychoneuroimmunology · Physiological Psychology · Psychopharmacology (Index, Outline)
---
Basket cells are inhibitory GABAergic interneurons found in several brain regions: the molecular layer of the cerebellum, the hippocampus, and the cortex. In the cerebellum, they synapse on the cell bodies of Purkinje cells, and are multipolar and stellate, with freely branching dendrites, which are dilated and knotty. Hippocampal basket cells target somata and proximal dendrites of pyramidal neurons. Cortical and hippocampal basket cells are parvalbumin-expressing and fast-spiking.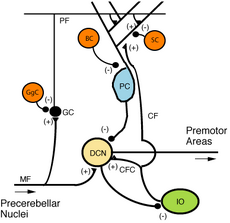 Community content is available under
CC-BY-SA
unless otherwise noted.