Assessment | Biopsychology | Comparative | Cognitive | Developmental | Language | Individual differences | Personality | Philosophy | Social |
Methods | Statistics | Clinical | Educational | Industrial | Professional items | World psychology |
Biological: Behavioural genetics · Evolutionary psychology · Neuroanatomy · Neurochemistry · Neuroendocrinology · Neuroscience · Psychoneuroimmunology · Physiological Psychology · Psychopharmacology (Index, Outline)
---
Ampakines are a new class of modified benzamide compounds known to enhance attention span and alertness. Their action is theorized to be due to facilitation of transmission at cortical synapses that use glutamate as neurotransmitter. This in turn may promote plasticity at the synapse, which could translate into better cognitive performance. The ampakines take their name from the glutamatergic AMPA receptor, which they strongly interact with.
Unlike earlier stimulants (e.g. caffeine, methylphenidate (Ritalin®), the amphetamines) they do not seem to have unpleasant, long-lasting side effects such as sleeplessness. They are currently (2005) investigated as potential treatment for a range of conditions involving mental disability such as Alzheimer's disease, Parkinson's disease, schizophrenia or neurological disorders as Attention Deficit Hyperactivity Disorder (ADHD), among others. In a 2006 study they were shown to have an effect after they had left the body, continuing to enhance learning and memory.
Some examples include: CX-516 (Ampalex), CX546, CX614 and CX717.
Structure
Edit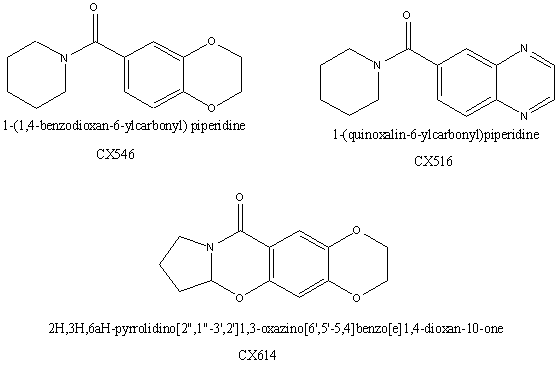 Mechanism
Edit
Ampakines work by allosterically binding to particular receptors in the brain, called AMPA-type glutamate receptors. This boosts the activity of glutamate, a neurotransmitter, and makes it easier to encode memory and to learn. In addition, some members of the Ampakine family of drugs may also increase levels of trophic factors such as Brain Derived Neurotrophic Factor (BDNF). Modafinil (brand name Provigil) exhibits an affinity for the dopamine reuptake pump as well, blocking excess dopamine from being removed by the brain. How this effects the drug is not known, however this may be responsible for the weakly reinforcing and euphoric properties of modafinil in particular. Other such drugs which are known to prevent the reuptake of dopamine into post-synaptic neurons are methylphenidate, cocaine and bupropion.
Side effects
Edit
Few side effects have been determined, but an ampakine called farampator has side effects including headache, somnolence, nausea, and impaired episodic memory. [1]
References
Edit
External links
Edit
fi:Ampakiini
Community content is available under
CC-BY-SA
unless otherwise noted.