Assessment | Biopsychology | Comparative | Cognitive | Developmental | Language | Individual differences | Personality | Philosophy | Social |
Methods | Statistics | Clinical | Educational | Industrial | Professional items | World psychology |
Biological: Behavioural genetics · Evolutionary psychology · Neuroanatomy · Neurochemistry · Neuroendocrinology · Neuroscience · Psychoneuroimmunology · Physiological Psychology · Psychopharmacology (Index, Outline)
---

Amobarbital (formerly known as amylobarbitone) is a drug that is a barbiturate derivative. It has sedative-hypnotic and analgesic properties. It is a white crystalline powder with no odor and a slightly bitter taste. If amobarbital is taken for extended periods of time, physical and psychological dependence can develop.
Pharmacology
Edit
According to an in vitro study conducted at the University of British Columbia, amobarbital works by activating GABAA receptors, which decreases input resistance, depresses burst and tonic firing, especially in ventrobasal and intralaminar neurons, while at the same time increasing burst duration and mean conductance at individual chloride channels; this increases both the amplitude and decay time of inhibitory postsynaptic currents.[1]
It has an LD50 in mice of 212 mg/kg s.c.
Metabolism
Edit
Amobarbital undergoes both hydroxylation to form 3'-hydroxyamobarbital,[2] which has both levorotatory and dextrorotatory isomers[3] and N-glucosidation[4] to form 1-(beta-D-glucopyranosyl)amobarbital.[5]
Indications
Edit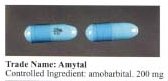 Unapproved/Off-Label
Edit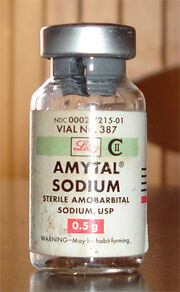 Contraindications
Edit
The following drugs should be avoided when taking amobarbital:
Amobarbital has been known to decrease the effects of hormonal birth control, sometimes to the point of uselessness. Being chemically related to phenobarbital, it might also do the same thing to digitoxin, a cardiac glycoside.
In 1988, Miller et al reported that amobarbital increases benzodiazepine receptor binding in vivo with less potency than secobarbital and pentobarbital (in descending order), but greater than phenobarbital and barbital (in ascending order).[9]
Some side effects of overdose include confusion (severe); decrease in or loss of reflexes; drowsiness (severe); fever; irritability (continuing); low body temperature; poor judgment; shortness of breath or slow or troubled breathing; slow heartbeat; slurred speech; staggering; trouble in sleeping; unusual movements of the eyes; weakness (severe). Death can result.
References and End Notes
Edit
Controlled Substances in Schedule II Office of Diversion Control, Drug Enforcement Administration.
Controlled Substances in Schedule III Office of Diversion Control, Drug Enforcement Administration.
External links
Edit
Barbiturates
edit
Allobarbital, Amobarbital, Aprobarbital, Barbexaclone, Barbital, Butabarbital, Butalbital, Butobarbital, Cyclobarbital, Ethallobarbital, Heptabarbital, Hexobarbital, Mephobarbital, Metharbital, Methohexital, Methylphenobarbital, Pentobarbital, Phenobarbital, Primidone, Proxibarbal, Reposal, Secobarbital, Talbutal, Thiobarbital, Thiopental, Vinbarbital, Vinylbital
Community content is available under
CC-BY-SA
unless otherwise noted.