Assessment | Biopsychology | Comparative | Cognitive | Developmental | Language | Individual differences | Personality | Philosophy | Social |
Methods | Statistics | Clinical | Educational | Industrial | Professional items | World psychology |
Professional Psychology: Debating Chamber · Psychology Journals · Psychologists
---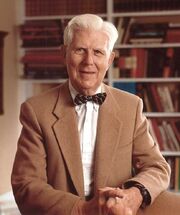 Aaron Temkin Beck (born July 18, 1921) is an American psychiatrist and a professor emeritus in the department of psychiatry at the University of Pennsylvania. He is widely regarded as the father of cognitive therapy, and his pioneering theories are widely used in the treatment of clinical depression. Beck also developed self-report measures of depression and anxiety including Beck Depression Inventory (BDI)[1], Beck Hopelessness Scale, Beck Scale for Suicidal Ideation (BSS), Beck Anxiety Inventory (BAI), and Beck Youth Inventories.[2] He is the President of the Beck Institute for Cognitive Therapy and Research[3] and the Honorary President of the Academy of Cognitive Therapy[4], which certifies qualified cognitive therapists.
His work at the University of Pennsylvania inspired Dr. Martin Seligman in refining Seligman's own cognitive techniques and exercises and later work on Learned helplessness.[5]
Aaron Beck was born in Providence, Rhode Island, the youngest child of his three siblings. Beck's parents were Jewish immigrants from Russia [6] Beck's daughter, Judith S. Beck, is also a researcher in the field of cognitive therapy and director of the Beck Institute [7].
Beck attended Brown University, graduating magna cum laude in 1942. At Brown he was elected a member of the Phi Beta Kappa Society, was an associate editor of the Brown Daily Herald, and received the Francis Wayland Scholarship, William Gaston Prize for Excellence in Oratory, and Philo Sherman Bennett Essay Award. Beck attended Yale Medical School, graduating with an M.D. in 1946.
Dr. Beck is an emeritus professor in the Department of Psychiatry at the University of Pennsylvania and the director of the Psychopathology Research Unit (PRU), which is the parent organization of the Center for the Treatment and Prevention of Suicide. [8]
The American Psychoanalytic Institute rejected Beck's membership application, "on the grounds that his mere desire to conduct scientific studies signaled that he'd been improperly analyzed", a decision that still makes him angry.[9]
Beck is noted for his research in psychotherapy, psychopathology, suicide, and psychometrics, which led to his creation of cognitive therapy, for which he received the 2006 Lasker-DeBakey Clinical Medical Research Award, and the Beck Depression Inventory (BDI), one of the most widely used instruments for measuring depression severity. Beck is also known for his creation of the Beck Hopelessness Scale and the Beck Anxiety Inventory, and has founded the Beck Institute in Philadelphia, Pennsylvania, in which his daughter, Dr. Judith Beck, works. Beck believed that depression is due to unrealistic negative views about the world. Depressed people have a negative cognition in three areas that are placed into the depressive triad. They develop negative views about: themselves, the world, and their future. Beck starts treatment by engaging in conversation with clients about their negative thoughts.[How to reference and link to summary or text] Cognitive therapy has also been applied with success to individuals with anxiety disorders, schizophrenia [1], and many other disorders. In recent years, cognitive therapy has been disseminated outside academic settings, including throughout the United Kingdom, and in a program developed by Dr. Beck and the City of Philadelphia.[2]
Beck, AT, (1967) Depression: Clinical, Experimental and Theoretical Aspects, New York: Hoeber.
Beck, A.T.,(1972) Depression: Causes and Treatment. University of Pennsylvania Press, . - ISBN 0-8122-1032-8
Beck, A.T.,(1973) Diagnosis and Management of Depression. University of Pennsylvania Press, . - ISBN 0-8122-7674-4
Beck, A.T.,(1979). Cognitive Therapy and the Emotional Disorders. Plume, - ISBN 0-452-00928-6
Beck, A.T., Rush, A.J., and Emery, G.,(1987) Cognitive Therapy of Depression. The Guilford Press, . - ISBN 0-89862-919-5
Beck, A.T.,(1989) Love Is Never Enough: How Couples Can Overcome Misunderstandings, Resolve Conflicts, and Solve. Harper Paperbacks, . - ISBN 0-06-091604-4
Scott, J., Williams, J.M., Beck, A.T.,(1989) Cognitive Therapy in Clinical Practice: An Illustrative Casebook. Routledge, . - ISBN 0-415-00518-3
Alford, B.A., Beck, A.T.,(1998) The Integrative Power of Cognitive Therapy. The Guilford Press, . - ISBN 1-57230-396-4
Clark, D.A., Beck, A.T., Alford, B.A.,(1999) Scientific Foundations of Cognitive Theory and Therapy of Depression. Wiley, . - ISBN 0-471-18970-7
Beck, A.T.,(2000) Prisoners of Hate: The Cognitive Basis of Anger, Hostility, and Violence. Harper Paperbacks, . - ISBN 0-06-093200-7
Beck, A.T., Wright F.D., Newman, C.F., Liese, B.S., (2001). Cognitive Therapy of Substance Abuse. The Guilford Press, - ISBN 1-57230-659-9
Newman, C.F., Leahy, R.L., Beck, A.T., Reilly-Harrington, N., Laszio, G.,(2001) Bipolar Disorder: A Cognitive Therapy Approach. American Psychological Association, . - ISBN 1-55798-789-0
Beck, A.T., Freeman, A., and Davis, D.D.,(2003) Cognitive Therapy of Personality Disorders. The Guilford Press, . - ISBN 1-57230-856-7
Wright, J.H., Thase, M.E., Beck, A.T., Ludgate, J.W., (2003) Cognitive Therapy with Inpatients: Developing A Cognitive Milieu. The Guilford Press, . - ISBN 0-89862-890-3
Winterowd, C., Beck, A.T., Gruener, D.,(2003) Cognitive Therapy With Chronic Pain Patients. Springer Publishing Company, . - ISBN 0-8261-4595-7
Beck, A.T., Emery, G., and Greenberg, R.L., (2005).Anxiety Disorders And Phobias: A Cognitive Perspective. Basic Books, - ISBN 0-465-00587-X
Beck, A. T. (1999). Cognitive aspects of personality disorders and their relation to syndromal disorders:A psychoevolutionary approach. In C. R. Cloninger (Ed.), Personality and psychopathology (pp.
411–429). Washington, DC: American Psychiatric Press.
Beck, A.T., Ward, C.H., Mendelson, M.; Mock, J.E. and Erbaugh, J.K. (1962) Reliability of psychiatric diagnoses: II A study of consistency of clinical judgements and ratings, American Journal of Psychiatry 119: 351-7
Community content is available under
CC-BY-SA
unless otherwise noted.