Assessment | Biopsychology | Comparative | Cognitive | Developmental | Language | Individual differences | Personality | Philosophy | Social |
Methods | Statistics | Clinical | Educational | Industrial | Professional items | World psychology |
Educational Psychology: Assessment · Issues · Theory & research · Techniques · Techniques X subject · Special Ed. · Pastoral
---

The ACT (pronounced as an initialism, "a see tee"; originally abbreviation of American College Testing)[1] is a standardized test for high school achievement and college admissions in the United States produced by ACT, Inc.[1] It was first administered in November 1959 by Everett Franklin Lindquist as a competitor to the College Board's Scholastic Aptitude Test, now the SAT Reasoning Test.[2] The ACT has historically consisted of four tests: English, Mathematics, Reading, and Science Reasoning. In February 2005, an optional Writing test was added to the ACT, mirroring changes to the SAT that took place later in March of the same year. All four-year colleges and universities in the U.S. accept the ACT,[3] but different institutions place different emphases on standardized tests such as the ACT, compared to other factors of evaluation such as class rank, G.P.A., and extracurricular activities. The main four tests are scored individually on a scale of 1-36, and a Composite score is provided which is the whole number average of the four scores. In 2005 the company established ACT International. This organization is composed of ACT Education Solutions, Limited, and ACT Business Solutions, B.V. ACT Education Solutions is directed toward helping non-native speakers learn English in preparation for studying at an English-speaking educational institution. ACT Business Solutions attempts to help employers assess their employees' level of English proficiency through use of the WorkKeys assessment.[1]
ACT, Inc. says that the ACT assessment measures high school students' general educational achievement and their academic aptitude to complete college-level work with the multiple choice tests covering four skill areas: English, mathematics, reading, and science. The optional Writing Test measures skill in planning and writing a short essay.[4] Specifically, ACT states that its scores provide an indicator of "college readiness", and that scores in each of the subtests correspond to skills in entry-level college courses in English, algebra, social science, humanities, and biology.[5]
To develop the test, ACT incorporates the objectives for instruction for middle and high schools throughout the United States, reviews approved textbooks for subjects taught in Grades 7–12, and surveys educators on which knowledge skills are relevant to success in postsecondary education. ACT publishes a technical manual that summarizes studies conducted of its validity in predicting freshman GPA, equating different high school GPAs, and measuring educational achievement.[6]
Colleges use the ACT and the SAT Reasoning Test because there are substantial differences in funding, curricula, grading, and difficulty among U.S. secondary schools due to American federalism, local control, and the prevalence of private, distance, home schooled students and, most importantly, lack of rigorous college entrance examination system like those used in other countries. ACT/SAT scores are used to supplement the secondary school record and help admission officers put local data—such as course work, grades, and class rank—in a national perspective.
Most colleges use ACT scores as only one factor in their admission process. A sampling of ACT admissions scores shows that the 75th percentile composite score was 24.1 at public four year institutions and 25.3 at private four year institutions. It is recommended that students check with their prospective institutions directly to understand ACT admissions requirements.[7]
In addition, some states have used the ACT to assess the performance of schools, and require all high school students to take the ACT, regardless of whether they are college bound. Colorado and Illinois have incorporated the ACT as part of their mandatory testing program since 2001. Michigan has required the ACT since 2007, Kentucky and Tennessee require all high school juniors to take the ACT and Wyoming requires all high school juniors to take either the ACT or the ACT WorkKeys.[8]
While the exact manner in which ACT scores will help to determine admission of a student at American institutions of higher learning is generally a matter decided by the individual institution, some foreign countries have made ACT (and SAT) scores a legal criterion in deciding whether holders of American high school diplomas will be admitted at their public universities.
The ACT is more widely used in the Midwestern and Southern United States, while the SAT is more popular on the East and West coasts, although recently the ACT has been gaining more use on the East Coast.[9] Use of the ACT by colleges has risen as a result of various criticisms of the effectiveness and fairness of the SAT. American Mensa is a high IQ society that allows use of the ACT for membership admission if the test was taken prior to September 1989. A composite score of 29 or above is required.[10]
The required portion of the ACT is divided into four multiple choice subject tests: English, mathematics, reading, and science reasoning. Subject test scores range from 1 to 36; all scores are integers. The English, mathematics, and reading tests also have subscores ranging from 1 to 18. (The subject score is not the sum of the subscores.) The composite score is the average of all four tests. In addition, students taking the writing test receive a writing score ranging from 2 to 12, a combined English/writing score ranging from 1 to 36 (based on the writing score and English score), and one to four comments on the essay from the essay scorers. The writing score does not affect the composite score.
On the ACT, each question correctly answered is worth one raw point. Unlike the SAT, there is no penalty for marking incorrect answers on the multiple-choice part of the test. Therefore, a student can answer all questions without suffering a decrease in their score for questions they answer incorrectly. This is parallel to several AP Tests eliminating the penalties for incorrect answers. To improve the result, students can retake the test: 55% of students who retake the ACT improve their scores, 22% score the same, and 23% see their scores decrease.[11]
The first section is the 45-minute English test covering usage/mechanics and rhetorical skills. The 75-question test consists of five passages with various sections underlined on one side of the page and options to correct the underlined portions on the other side of the page. More specifically, questions focus on usage and mechanics - issues such as commas, apostrophes, (misplaced/dangling) modifiers, the colons, and fragments and run-ons - as well as on rhetorical skills - style (clarity and brevity), strategy, transitions, and organization (sentences in a paragraph and paragraphs in a passage.)
The second section is the 60-minute, 60-question math test with 14 covering pre-algebra, 10 elementary algebra, 9 intermediate algebra, 14 plane geometry, 9 coordinate geometry, and 4 elementary trigonometry.[12] Calculators are permitted in this section only. The calculator requirements are stricter than the SAT's in that computer algebra systems are not allowed; however, the ACT permits calculators with paper tapes, that make noise (but must be disabled), or that have power cords with certain "modifications" (i.e., disabling the mentioned features), which the SAT does not allow.[13] Also, this is the only section that has five instead of four answer choices.
The 35-minute, 40-question reading section measures reading comprehension in four passages (taken and edited from books and magazines) one representing prose fiction (short stories and novels), another representing social science (history, economics, psychology, political science, and anthropology), a third representing humanities (art, music, architecture, dance), and the last representing natural science (biology, chemistry, physics, and the physical sciences), in that order.[14]
Science reasoning
Edit
The science reasoning test is a 35-minute, 40-question test. There are seven passages each followed by five to seven questions. There are three Data Representation passages with 5 questions following each passage, 3 Research Summary passage with six questions each, and one Conflicting Viewpoints passage with 7 questions.[15]
The optional writing section, which is always administered at the end of the test, is 30 minutes long. All essays must be in response to a given prompt. The prompts are about a social issue applicable to high school students. The essay can affect the score of the English section only. If a student were to score a 10 out of 12 on the writing, and the student scored an English composite score of 25 then the score would be affected, but would most likely stay the same. If a student were to score poorly on the writing section, then the score would be reduced from 25 to 23 at the most. A two point demerit is the maximum allowed for a writing penalty. No particular essay structure is required. Two trained readers assign each essay a score between 1 and 6, where a score of 0 is reserved for essays that are blank, off-topic, non-English, not written with no. 2 pencil, or considered illegible after several attempts at reading. The scores are summed to produce a final score from 2 to 12 (or 0). If the two readers' scores differ by more than one point, then a senior third reader decides.
Although the writing section is optional, several schools do require an essay score and will factor it in the admissions decision.[16]
For the original standardization groups, the mean composite score on the ACT was 18, and the standard deviation 6. These statistics vary from year to year for current populations of ACT takers.
The chart below summarizes each section and the average test score based on graduating high school seniors in 2009.[17][18]
| Section | Number of questions | Time (minutes) | Average score | College Readiness Benchmark | Content |
| --- | --- | --- | --- | --- | --- |
| English | 75 | 45 | 20.6 | 18 | usage/mechanics and rhetorical skills |
| Mathematics | 60 | 60 | 21.0 | 22 | pre-algebra, elementary algebra, intermediate algebra, coordinate geometry, geometry, and elementary trigonometry |
| Reading | 40 | 35 | 21.4 | 21 | reading comprehension |
| Science | 40 | 35 | 20.9 | 24 | interpretation, analysis, evaluation, reasoning, and problem-solving |
| Optional Writing Test | 1 essay prompt | 30 | 7.7 | | writing skills |
| Composite | | | 21.1 | | |
Highest Score
Edit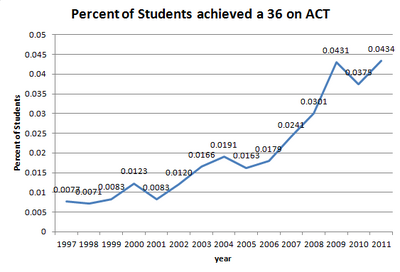 The chart below summarizes how many students achieved a score of 36 on the ACT between the years of 1997 and 2011.[19]
| Year | (#) of Students who achieved a 36 | Number of Students Overall | (%) of Students who achieved a 36 |
| --- | --- | --- | --- |
| 2011 | 705 | 1,623,112 | 0.04337 |
| 2010 | 588 | 1,568,835 | 0.03748 |
| 2009 | 638 | 1,480,469 | 0.04309 |
| 2008 | 428 | 1,421,941 | 0.03010 |
| 2007 | 314 | 1,300,599 | 0.02414 |
| 2006 | 216 | 1,206,455 | 0.01790 |
| 2005 | 193 | 1,186,251 | 0.01627 |
| 2004 | 224 | 1,171,460 | 0.01912 |
| 2003 | 195 | 1,175,059 | 0.01659 |
| 2002 | 134 | 1,116,082 | 0.01201 |
| 2001 | 89 | 1,069,772 | 0.00832 |
| 2000 | 131 | 1,065,138 | 0.01230 |
| 1999 | 85 | 1,019,053 | 0.00834 |
| 1998 | 71 | 995,039 | 0.00714 |
| 1997 | 74 | 959,301 | 0.00771 |
Test availability
Edit
The ACT is offered four to six times a year, depending on the state, in the United States, in September, October, December, February, April and June and is always on a Saturday except for those with credible religious obligations. The test can also be taken in other countries, however availability is much less than in the United States.
Candidates may choose either the ACT assessment ($33), or the ACT assessment plus writing ($48).
Students with verifiable disabilities, including physical and learning disabilities, are eligible to take the test with accommodations. The standard time increase for students requiring additional time due to learning disabilities is 50%.[20] Originally the score sheet was labeled that additional time was granted due to a learning disability, however this was dropped because it was deemed illegal under the Americans with Disabilities Act and could be seen as an unfair mark of disability.
Scores are sent to the student, his or her high school, and up to four colleges.[21]
ACT Time vs. SAT Time
Edit
Time is a major factor to consider in testing.
The ACT is generally regarded as being composed of somewhat easier questions (versus the SAT), but the time allotted to complete each section increases the overall difficulty (equalizing it to the SAT). The ACT allots:
45 minutes for a 75-question English section
60 minutes for a 60-question Math section
35 minutes for a 40-question Reading Comprehension section
35 minutes for a 40-question Science section
Comparatively, the SAT is structured such that the test taker is allowed at least one minute per question, on generally shorter sections (25 or fewer questions).
Score cumulative percentages and comparison with SAT
Edit
Forty-five percent—1,480,469 students—of the 2009 high school graduating class took the ACT.[18][22] The average composite score was a 21.1 in 2009.[18] Of 2009 test-takers, 668,165 (or 45%) were males, 808,097 (or 55%) were females, and 4,207 (or 0.3%) did not report a gender.[18] Nationwide, 638 students who reported that they would graduate in 2009 received the highest ACT composite score of 36.[18]
Although there is no official conversion chart, the College Board, which administers the SAT, released an unofficial chart based on results from 103,525 test takers who took both tests between October 1994 and December 1996; however, both tests have changed since then, and many suggest that the College Board's analysis is biased in favor of the SAT. Several colleges and test-prep companies have also issued their own charts. The following is based on the Princeton Review conversion chart.[23] [24] ACT percentiles are calculated on the basis of the percent of test takers scoring the same score or a lower one, not (as is the case for many other assessments) only the percent scoring lower. These values are approximations; however, the distributions have retained a good degree of stability over the history of these tests.[citation needed] Be aware that comparing percentile for the total SAT score to the percentile for the total ACT score is not entirely valid, as many colleges have yet to start looking at the SAT's new writing section.
| SAT (with writing test addition) | ACT composite score | The percentile of students at or below this score for the ACT (not SAT) |
| --- | --- | --- |
| 2400 | 36 | 99% |
| 2340 | 35 | 99% |
| 2280 | 34 | 99% |
| 2220 | 33 | 99% |
| 2160 | 32 | 98% |
| 2100 | 31 | 97% |
| 2040 | 30 | 95% |
| 1980 | 29 | 93% |
| 1920 | 28 | 91% |
| 1860 | 27 | 87% |
| 1800 | 26 | 84% |
| 1740 | 25 | 79% |
| 1680 | 24 | 74% |
| 1620 | 23 | 68% |
| 1560 | 22 | 62% |
| 1500 | 21 | 55% |
| 1440 | 20 | 48% |
| 1380 | 19 | 41% |
| 1320 | 18 | 34% |
| 1260 | 17 | 28% |
| 1200 | 16 | 21% |
| 1140 | 15 | 16% |
| 1080 | 14 | 11% |
| 1020 | 13 | 6% |
| 960 | 12 | 3% |
| 900 | 11 | 1% |
SAT, the main competitor to ACT's examination
References
Edit
↑ 1.0 1.1 1.2 About ACT: History. URL accessed on October 25, 2006.Name changed in 1996.
↑ "ACT Assessment", Microsoft Encarta Online Encyclopedia 2007. Archived 2009-10-31.
↑ includeonly>Marklein, Mary Beth. "All four-year U.S. colleges now accept ACT test", USA Today. Retrieved on 2007-03-18.
↑ ACT Scores for College Admissions, Test-Guide.com, Retrieved on March 09.
↑ Honawar, Vaishali, Alyson Klein (August 30, 2006). ACT Scores Improve; More on East Coast Taking the SAT's Rival. Education Week 26 (1): 16.
↑ Geoff Martz, Kim Magloire, and Theodore Silver.; Geoff Martz, Kim Magliore, and Theodore Silver (2007). "Chapter 10" Cracking The ACT, 2007, 94, The Princeton Review.
↑ ACT FAQ: Can I use a calculator?. ACT Inc.. URL accessed on September 8, 2007.
↑ Geoff Martz, Kim Magloire, and Theodore Silver.; Geoff Martz, Kim Magliore, and Theodore Silver (2007). "Chapter 17" Cracking The ACT, 2007, 239, The Princeton Review.
↑ Geoff Martz, Kim Magloire, and Theodore Silver.; Geoff Martz, Kim Magliore, and Theodore Silver (2007). "Chapter 20" Cracking The ACT, 2007, 307, The Princeton Review.
↑ Cavner, Brian Comparison Between the SAT and ACT: Requirements differences between the two college admissions standardized tests. URL accessed on February 3, 2008.
↑ ACT Test Prep:Description of the ACT Assessment. ACT Inc.. URL accessed on June 29, 2007.
↑ 18.0 18.1 18.2 18.3 18.4 ACT Profile Report - National, Graduating Class 2009. (PDF) ACT Inc.. URL accessed on October 15, 2009.
↑ The ACT Test® Data. ACT Inc.. URL accessed on September 15, 2011.
↑ ACT Services for Students with Disabilities. ACT Inc.. URL accessed on September 8, 2007.
↑ ACT Score Information: ACT Score Report Descriptions. ACT Inc.. URL accessed on June 29, 2007.
↑ ACT National and State Scores for 2009: Average ACT Scores by State. ACT Inc.. URL accessed on October 15, 2009.
↑ http://www.universityofcalifornia.edu/admissions/undergrad_adm/paths_to_adm/freshman/exam_eligibility.html Univ. of California Eligibility by Examination Alone
External links
Edit
Community content is available under
CC-BY-SA
unless otherwise noted.