Assessment | Biopsychology | Comparative | Cognitive | Developmental | Language | Individual differences | Personality | Philosophy | Social |
Methods | Statistics | Clinical | Educational | Industrial | Professional items | World psychology |
Biological: Behavioural genetics · Evolutionary psychology · Neuroanatomy · Neurochemistry · Neuroendocrinology · Neuroscience · Psychoneuroimmunology · Physiological Psychology · Psychopharmacology (Index, Outline)
---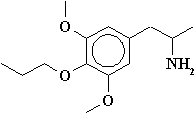 3C-P is a psychedelic phenethylamine, sometimes used as an entheogen. It has structural and pharmacodynamic properties similar to the drugs mescaline, proscaline, and amphetamines. Little information exists on the human pharmacology of 3C-P, but a psychedelic dosage appears to be 20-40mg, and is accompanied by stimulant effects.
Chemically 3C-P is 4-propoxy-3,5-dimethoxyamphetamine, with the formula C14H23N1O3. Although its name is similar to the psychedelic phenethylamine 2C-P, it is much closer in structure to mescaline, and proscaline. 3C-P is the 3-carbon homologue of proscaline.
Community content is available under
CC-BY-SA
unless otherwise noted.